Building plots in Majorca
Baugrundmallorca, a brand of the Dressler & Partner Group, specializes in land brokerage. Drawing on our resources and years of expertise as an architecture and construction firm, we can effectively assist you in your quest for the appropriate building plot in Majorca.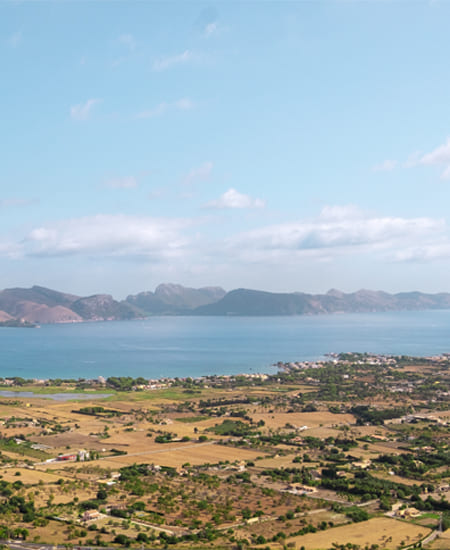 We focus exclusively on commercialising plots and properties in need of renovation. As such, we provide you with a qualified and expert service. Our in-depth knowledge of the island's property market and the available building plots allows us to find the one that meets your expectations.
In addition, we can draw on our expertise as a building company and architect's office to provide a deeper knowledge of the requirements of a plot in order to build on it. Our architects determine if your parcel of land, whether urban or rural, is suitable for construction and meets all legal criteria. Knowing about the infrastructure and building regulations in the various municipalities of Majorca and the numerous differences between them will allow you to make a differentiated decision about where to build your home.
We offer urban and rural plots in the sought-after southwest of the island and the north and the Tramuntana mountains. Many of our building plots are managed directly between the owner and the buyer. In addition to the online listings, we have more building plots available for you offline.
By analysing your demands, we define the requirements of your future place of residence. The crucial parameters to consider are the location, the surrounding infrastructure, the size, the price and the type of plot (rustic or urban).
On this basis, we present you with the plots that fit your requirements. Especially when it comes to location, we help you make an informed and considered decision. In a relatively small area, Majorca includes a variety of landscapes, places, and territories. The coveted southwest is an international hotspot for tourists and holiday property owners, making Calvià one of Spain's wealthiest municipalities. In contrast, the island's countryside, notably around Santa María del Camí and Algaida, reveals Majorca's more authentic and gentler side. Not to mention the Tramuntana mountain range, which features stunning UNESCO World Heritage landscapes and charming villages.
Before deciding where to build your home, you should have a solid understanding of the pros and cons of each area of the island. You should also be aware that a property may not look the same depending on the time of year, the weather or even the influx of tourists. However, don't worry – we're at your side to advise you on everything.
You may also acquire a plot with an existing construction permit for an already designed building project. With the approval process already completed, you avoid the long wait for a building permit. Because such plots are in short supply, prices are accordingly higher. Purchasing a plot with a licensed project, on the other hand, permits you to begin your construction project as soon as feasible.

Our multilingual team of experts will be there to assist you from the beginning of your property search!