Dressler & Partner offers you a full service, from the first sketch of your project to the handover of your property.
Since 1993 we have specialised in the construction, renovation and refurbishment of detached houses in Majorca.
Our portfolio ranges from the classic Mediterranean finca to the luxury villa with state-of-the-art facilities. With more than 300 completed construction projects, Dressler & Partner is one of the leading German architecture studios in Majorca.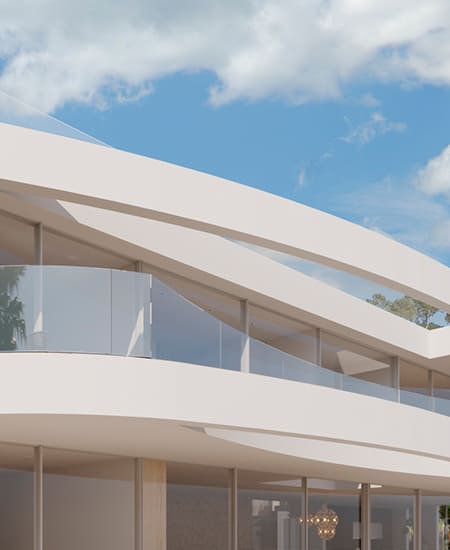 Plot analysis and examination of local building regulations.
(Preliminary Planning, detailed & structural planning, construction project)
Handling of official red tape
Completion of the project and turnkey handover.
Our comprehensive services include much more than a standard architectural service. Our multilingual team of experts consisting of architects, structural engineers, civil engineers and interior designers will develop your individual home in Majorca. Furthermore, we take care of the entire handling of red tape up to the final building approval.
Prior to making the final decision to purchase a plot, our architects will carry out a detailed analysis of the building site to ensure that your requirements for the plot of land are compatible with the local building regulations. Not every available plot in Majorca is constructible. Buying a building plot is no guarantee of building permission. Complex and changing regulations for new building projects in Majorca can sometimes result in complicated procedures with the respective authorities.
In Majorca, a basic distinction is made between the following types of land:
Rural land
Urban building land
Developable building land
With the help of topographic assessments and soil analyses, we check the characteristics of your plot of land. On this basis we develop the plans for your building project in Majorca.
During the planning phase, we determine the basics, draw up the floor plans and create the exterior views and 3D views. At Dressler & Partner, we focus on proper building physics calculations which are one of the German construction quality aspects and distinguish our building projects from others. Heat, moisture and sound insulation meet the highest German standards and ensure that your property will withstand the climatic conditions such as humidity and sea air in Majorca, even after many years.
This preliminary planning (in Spanish: Proyecto Básico) is then submitted to the responsible municipality. Once the municipality has approved the preliminary planning, the building application is submitted.
Our team of architects then draws up the construction planning, which is much more detailed than the previous draft planning. This contains all the information of the building project, such as building systems, materials, installations, etc.
The snagging inspection is supervised by our architects. Once the municipality has confirmed a proper building execution, we compile all relevant documentation for your building project. In addition, we prepare an individual user manual for your new building, in which all technical details such as building services, as well as plans, materials, checklists, information on maintenance intervals, etc. are provided.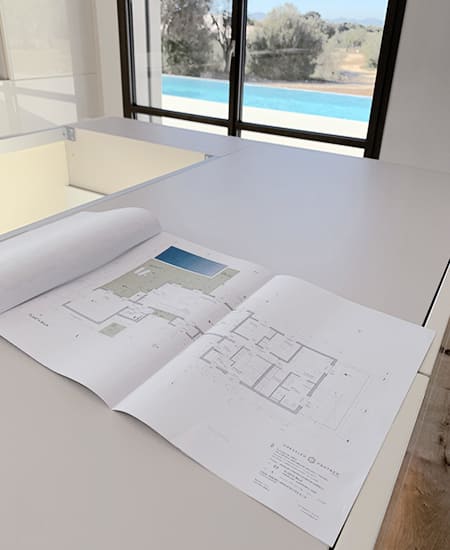 Please contact us if you would like to receive more information.
We will get back to you as soon as possible.